Pressotherapy Machine Lymphatic Drainage Device
Pressotherapy Lymphatic Drainage Machine Advantage
44 Air Bags for whole body
Comes with one main machine and one set suit(purple color)
For body slimming, detoxify, lymphatic drainage
Description
Introduction of Pressotherapy Machine
Air lymphatic detoxin therapy is a treatment widely used in body fluid,beauty and physical treatment. By air pressure therapy, the machine can improve lymphatic and blood circulation then drain out unwanted substancesin body, thus effectively improve fatness of edema cellulite, tighten slack muscle and restore flexibility of muscle fibre. This machine takes body slimming, relaxation, and detoxification functions in one. It has clothes, every cloth with air bags, strainers. Air bags are symmetrical. There is each around the waist and belly. Also symmetrical from top to bottom on the legs. Can freely apply on every part which is needed obesity removal.
Features of Pressotherapy Machine
1) The large digital tube could display each operation modes, very simple to operate, very convenient and clear.
2) The digital technology control could offer many humane modes option for different light people, different weight people, different fast people, different slow people via controlling time, orientation, position, pressure.
3) What ever parts, whole body, single or double, the instruments can be used simultaneously.
4) Air pressure slimming suit (cloth, pants, shoes, belt) made of special material-light & soft, and further more they are easy to dress well, to clean well, and much pretty durable.
Program & Mode
1) Mode: three modes for option.
A: Health: airbags progressively inflate, maintain, and deflate with rhythmic cycle operations which will make you feel kneading each parts of body by two hands of a massage master. Further more it is suitable to improve lymphatic circulation, to prevent varicose veins, to expel out toxin, to stimulate the circulation of the blood and cause the muscles and joints to relax, to relax curves and relieve fatigue.
B: Beauty: airbags progressively inflate, maintain, and deflate with rhythmic cycle operations which makes you feel have many hands to push and press you; this physiotherapy operation is suitable to stimulate lymphatic drainage, to expel out toxin, to keep slim, to relieve edema and excess moisture of body.
C: Sports: in the mean while the airbags inflate, maintain, deflate with rhythmic cycle operations which make you feel the strength of pressure enhanced gradually, when releasing the blood returned quickly. This treatment is suitable to promote the blood circulation, to burn excess fat and stagnant moisture of body, to tighten the slack muscles & recover the elasticity of muscle, and to build perfect figure quickly.
Function of Pressotherapy Machine
Detoxify
Body shapes
Tone body muscles
Body slimming
Physical treatment for surgical extraction
Lymphatic
Relaxation for whole body cellulites reducing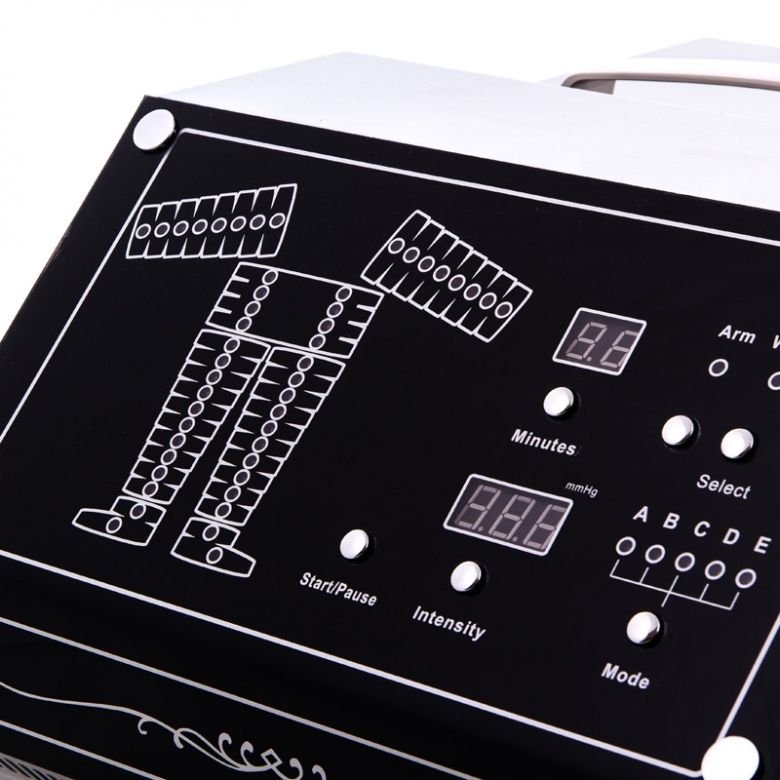 Specification of Pressotherapy Machine
Chamber: 44pcs
Air pump output: 50L/min
Pressure: 120mmHg-200mmHg
Wire Length: 1.8m
Watt: 120W
Color: Purple
Operation System: Air Pressure
Feature: Cellulite Reduction, Detox, Weight Loss
Material: Iron & PVC
Parts Suits for arms,waist,feet,legs,body
Voltage:110-240V,50hz-60hz