Shockwave Erectile Dysfunction Pain Relief Machine
Shockwave with 7 kinds of working head
Shockwave for Erectile Dysfunction and Pain Relief Joint Treatment
Frequency 1-16Hz
Treatment area: ED, body, waist, foot, hand, shoulder, back
Description
Shockwave Therapy
A shockwave is a pressure wave – any action that displaces its surrounding medium is a shockwave. The ripple created when a stone is thrown into a pond is a shockwave. The shock waves used in equine medicine are generated in a fluid medium inside a transducer head and are then transmitted readily through skin, fat, and muscle. The high energy waves are focused within the transducer head so that the shock wave can be directed to the precise area of the injury. When shockwaves hit an area of higher acoustic impedance,such as bone, the waves slow dramatically and a large amount of energy is released into the surrounding tissue.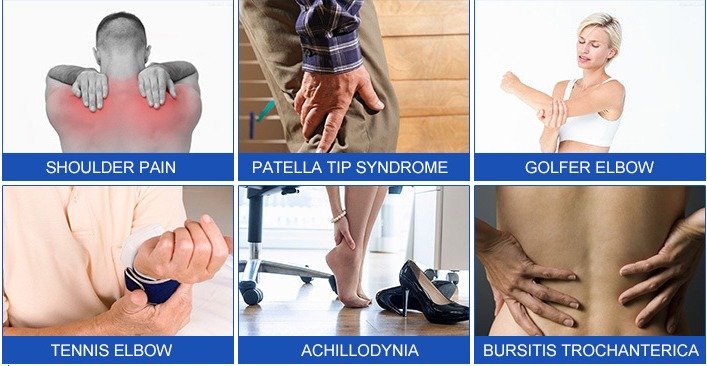 Erectile Function
Healthy blood vessels matter!
Erection is the result of a complex synergy between blood vessels, the nervous system, hormones and muscles. During an erection there is increased blood flow to the penis, which in turn increases the pressure. Sufficient blood flow to the cavernous bodies plays an most important role in erectile function.
Shockwave Therapy for ED
Most men suffering from erectile dysfunction have vascular problems affecting the vessels that supply blood to the cavernous bodies of the penis, resulting in a decreased ability to develop and maintain an erection. The end result is an inadequate blood-flow followed by premature draining of an already reduced amount of blood from the cavernous bodies,meaning an erection is not achieved. Shockwave Therapy for ED of this type can be a highly effective treatment.
How does Shockwave Therapy different from other ED Treatments?
Most other therapies involve the continuing use of medication, or invasive treatments such as injections and implants, whereas shockwave therapy is a non-invasive treatment which triggers a natural mechanism that cures vascular-related ED problems rather than just treating the symptoms.
The shockwaves are focused onto the area to be treated creating new blood vessels in penile tissue, enabling patients to achieve and maintain firm spontaneous erections.
Shockwave Advantage
1) Lightest and most refined
2) Newest design electromagnetic shock wave
3) New digital hand piece
4) New heads for ED therapy
5) New intelligent programming

Specification of Shockwave
Rrequency: 1-16hzShell Material: ABS
Working Head: 7 different working head
Energy: 5mj – 200mj
Power: 200W
Function: Pain Relief and Erectile Dysfunction
Treatment Area: ED, Body, Legs, Arms, Waist, Shoulder
Voltage: 110V~240V, 50-60HZ